SUPPORTING SMALL AND MEDIUM PRACTICES
Guided by the ISCA Quality Assurance Framework, ISCA drives quality, digitalisation, as well as upskilling and internationalisation of the audit practices in Singapore. The framework has four pillars: quality assurance, digital capability, knowledge circle, and opportunities creation.
To support firms in the implementation of the new quality management standards, ISCA developed a quality management toolkit comprising implementation tips, practical examples, suggested policies and procedures, and forms.
Discussion-based workshops were also organised on 16 and 21 December 2021 to guide audit firms in developing customised quality management manuals via the toolkit. ISCA continues to support firms in their implementation of tailored quality management policies and procedures under its QAR Programme.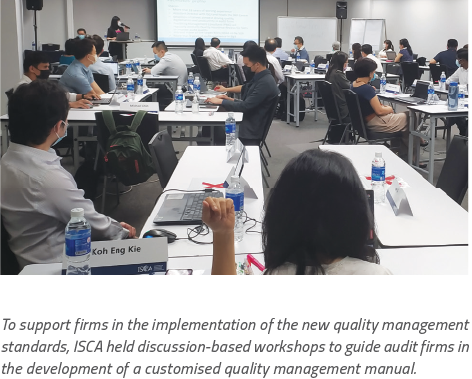 ISCA's virtual SMP Centre was launched to help SMPs drive their journey of digitalisation, upskilling, diversification and internationalisation.
The one-stop centre curates digital tools that address practice needs and runs tech talks to help SMPs understand how the tools can address pain points with the aim to help SMPs automate processes and enhance service delivery. An online self-assessment toolkit is also available for SMPs to determine their firm's stage of digital readiness and identify suitable digital solutions and training programmes depending on the stage of the firm's digital development. Robotic Process Automation workshops are also frequently run to support firms in automating routine and repetitive audit and internal processes.
The SMP Centre provides digital advisory support as well, with ISCA working closely with government agencies to curate funding schemes to help SMPs defray costs when adopting new digital solutions.
For SMPs that are progressive with digitalisation, the centre directs them to high-growth areas and potential new revenue streams such as cybersecurity and digital advisory; and develops certification programmes to help their workforce bridge skill gaps. This enables firms to go beyond digitalising their firm and towards supporting their clients' digitalisation journeys.
ISCA's Quality Assurance Review (QAR) Programme is a voluntary programme that aims to help participating public accountants raise the quality of their audit practices and audit engagements.
The programme involves reviewing signed-off engagement files, firm-level quality control systems and/or policies, procedures and controls on Anti-Money Laundering /Combating the Financing of Terrorism (AML/CFT). Tailored firm trainings on the key findings from the review are covered under the programme as well.
During the year, ISCA expanded its current database of On-the-Job Training (OJT) Blueprints, producing a new set of Blueprints covering 10 new audit topics.
These Blueprints are developed with the aim of enhancing the in-house training programmes of audit firms, and serve as a guide for audit staff, especially when their supervisors are not with them during fieldwork. A series of workshops was also rolled out in the year to help audit professionals use the Blueprints effectively.
Because of pandemic-related travel restrictions, ISCA's business mission trip – a collaborative initiative with the VACPA – became a virtual one via Zoom.
The session created a platform for audit firms from Singapore and Vietnam to exchange information and best practices, and to explore collaboration opportunities.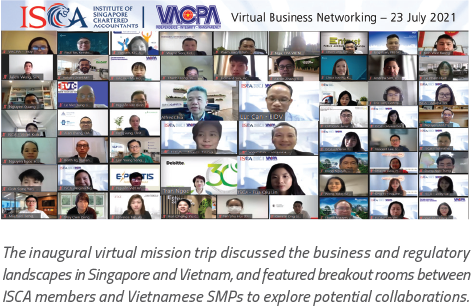 ISCA offers customised technical training sessions to meet the specific learning needs of SMPs, with training materials tailored to the needs of different firms.
These training services aim to bridge the knowledge gap and help audit staff relate what they have learnt to their work. The scope of the training includes ISCA Audit Manuals, Ethics Pronouncement 200 and other audit-related topics.
ISCA issues publications to drive technical excellence and best practices, and regularly updates them.
The ISCA Audit Manual for Standalone Entities (ISCA AMSE) was first issued in October 2016 and updated regularly to help audit professionals understand the requirements of Singapore Standards on Auditing and apply them during the audit process.
The ISCA Audit Manual for Group Entities (ISCA AMGE) was first issued in October 2016 and updated regularly to help audit professionals understand the requirements of Singapore Standards on Auditing and apply them during the audit process.
In addition, ISCA's Illustrative Financial Statements (IFS) was developed to help SMPs and their SME clients understand and apply the required disclosures. The latest edition was issued in January 2021.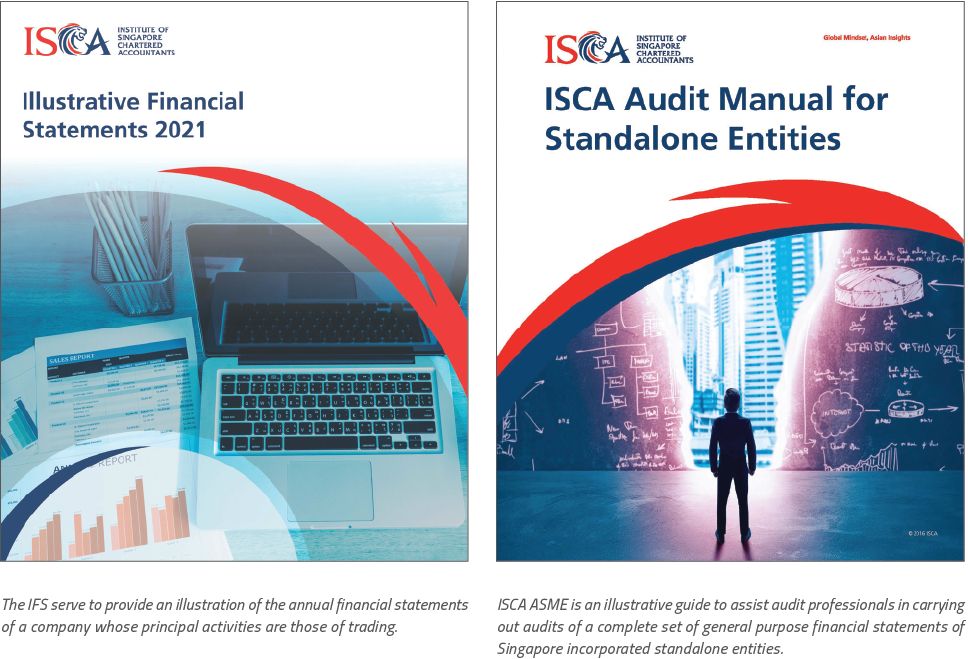 Over the year, ISCA organised five tech talks to help SMPs with their digitalisation journey.
On 26 March 2021, ISCA collaborated with the Infocomm Media Development Authority (IMDA) to organise "Supercharge your food services and retail business with the Digital Resilience Bonus (DRB)". The tech talk received a satisfaction rating of 8.2/10 and was attended by 239 participants.
More than 315 participants attended "Make smarter, more accurate finance and credit decisions with Blackline's newest solution: Cash Application" in June 2021. The virtual event received a satisfaction rating of 8.1/10.
More than 200 participants attended "Build a future-ready accounting practice with online HR & Payroll solutions" in July 2021. The tech talk obtained a satisfaction rating of 8.1/10.
Organised on 31 August 2021, "How to become a PSG pre-approved digital advisor" discussed the benefits of the Productivity Solutions Grant (PSG) for accounting services providers. The tech talk received a satisfaction rating of 8.1/10 from close to 300 participants.
How to achieve "Faster and more Effective Financial Closing in the New Normal" was held on 3 November 2021. 335 participants attended the event, which obtained a satisfaction rating of 8.2/10.
ISCA organised a Robotic Process Automation (RPA) Hackathon in July 2021. The hackathon challenged its participants to develop an RPA script for one of the three categories: Audit Process; Finance, Planning and Treasury Process; and Open Category.
SP lecturer Mr Daryl Aw emerged the Champion with his solution "Showcasing a series of solutions for SMPs including roll-forward procedures, automation of timesheets, payroll processes and preparation of reports and data extraction for Corp Sec processes".