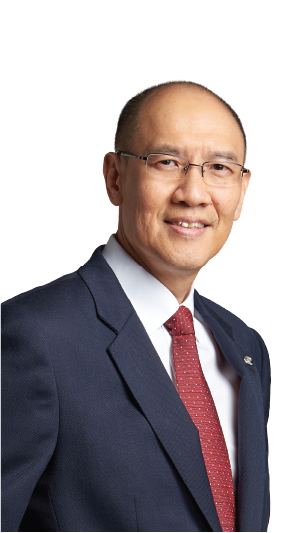 Dear Members,
With the volatility, uncertainty and complexity throughout the world this past year, there have been tremendous changes across our business landscape. Indeed, the pandemic has altered work and life as we know it, with new norms and practices that cater to an unprecedented time. We are also dealing with a deepening global climate crisis, which calls for urgent, drastic change.
Undoubtedly, sustainability has become a focal point for businesses, communities and governments around the world. Against this backdrop, it is more important now than ever for the Institute and the accountancy profession to evolve and adapt, sustaining our relevance and thriving in today's climate.
In combating climate change, the accountancy profession has a pivotal role to play. Being stewards of capital and corporate reporting, we are in an influential position to help businesses infuse a sustainability culture and accelerate business practices in sustainability, from planning and strategy to improving processes and measuring performance.
At ISCA, we aim to support our members and the profession in being difference makers, driving the sustainability agenda in their organisations. As the national accountancy body, it is also important that we "walk the talk" and lead by example. We have developed a holistic sustainability strategy based on the three pillars of Capability Building, Corporate Citizenship and Collaboration with Like-minded Organisations. With this, we plan to build capabilities in accountancy professionals to enable them to identify, promote and pursue sustainability opportunities for their organisations. The strategy will also drive sustainability practices within ISCA.
In this annual report, you will find ISCA's Sustainability Policy Statement, which sets out our policies on sustainability practices, and a section on ISCA's Environmental, Social and Governance (ESG) efforts.
As part of our sustainability strategy, ISCA has developed a sustainability roadmap, which includes the establishment of policies and processes to measure, track and report the Institute's sustainability targets.
We have formed a sustainability reporting taskforce, which is chaired by ISCA CEO and includes staff from various departments, who have knowledge of ESG matters and the Institute's operations. This cross-functional team is responsible for developing and implementing ESG initiatives and delivering reporting and disclosures relating to the Institute's ESG performance.
While our endeavours to promote the sustainability agenda started much earlier, we have ramped up our efforts in 2021 amid the intensifying climate crisis. Our publication, Fueling Sustainable Ecosystems — Insights from the Financial Services Sector, shares actionable insights from the financial services sector to help businesses embark on their sustainability journey. This was launched at the 2021 PAIB Conference "Sustainability & Trust: Taking Centrestage in a New Era of Business", which had segments focused on the sustainability topics related to the profession.
Representing ISCA, I shared the state of sustainability reporting in Singapore and ISCA's initiatives in this area at the United Nations Conference on Trade and Development (UNCTAD), where I addressed delegates at the International Standards of Accounting and Reporting (ISAR) meeting in November 2021. ISAR is the United Nations' focal point on accounting and ESG matters. I also spoke on the same subject at the UNCTAD – Consultative Group meeting on national infrastructure for high quality sustainability reporting in March this year. The sharing at this meeting is ISCA's contribution towards UNCTAD's development of a policy recommendations document that complements its sustainability reporting toolkit.
The Institute also took part in the Sustainability Assurance Roundtable co-hosted by the Jeju Group and International Federation of Accountants (IFAC), as well as the Jeju Group's Webinar on Sustainability Reporting and Assurance. Our participation in these events has raised ISCA's global prominence. More importantly, it gave us the opportunity to be part of the profession's collective efforts to promote sustainability reporting and assurance.
We will continue our efforts to equip our members with the skills that enable them to contribute to the sustainability sector. To this end, we will embed sustainability-related content in our CPD courses, seminars, events and programmes. We will also bolster our efforts in providing sustainability-focused research and publications.
By the time you read my message, it may well be that the worst of the pandemic is over. It has indeed not been an easy journey for everyone. I am heartened that our efforts to support members and the profession through the pandemic in 2021 made a difference.
The ISCA Support Fund has helped close to 140 Small and Medium Practices (SMPs), enabling them to tap into new opportunities and build digital capabilities. It has also provided financial respite for about 500 members affected by the pandemic through membership fee waivers and complimentary Continuing Professional Development (CPD) training courses.
To support members in upskilling amid the pandemic, ISCA organised more than 40 complimentary webinars on topics such as strengthening governance, fighting climate change and supporting green finance, driving finance transformation and trends, mitigating financial fraud risk, and coping with stress and anxiety in uncertain times. These webinars cumulatively garnered more than 17,000 signups.
Recognising the potential impact of the pandemic and its accompanying stresses on our members' well-being, we ramped up our offerings on mental wellness. ISCA designated October 2021 as its mental wellness month, rolling out resources such as a dedicated Mental Wellness section on ISCA's website, a cover story in IS Chartered Accountant Journal (ISCA Journal) and two webinars on the subject.
To keep our members updated about the latest developments in an evolving situation, we released regularly-updated guides such as the ISCA COVID-19 Navigator, as well as sector-specific advisories about the latest safe-distancing requirements.
In an uncertain economic environment, we boosted our career support for members. Our job matching scheme has enabled our members to discreetly connect with potential employers by posting their job history online anonymously. In 2021, we fulfilled more than 420 employer requests to connect with members looking for career opportunities. Together with Workforce Singapore, we held the Virtual Career Fair for Accountancy and Finance Professionals again in 2021 to help our members seek new career opportunities.
The pandemic accelerated the pace of digital transformation and technology adoption. With new technologies and innovations rapidly changing the business landscape, ISCA provided new avenues for our members to gain in-demand skills and remain relevant, helping them thrive in today's dynamic environment.
Our Memorandum of Understanding (MOU) with the Corrupt Practices Investigation Bureau (CPIB) paved the way for eligible CPIB officers to become ISCA members and be conferred the ISCA Financial Forensic Professional (FFP) credential. In addition, the ISCA Audit Committee Programme launched in 2021 equips members with essential financial reporting skills to strengthen the quality of financial reporting disclosures and best practices in corporate governance and risk management.
With the pervasive use of technology, businesses must understand and manage technology-related risks. ISCA, with the support of the Singapore Accountancy Commission (SAC), worked with industry experts to develop the ISCA Information Systems Risk Management (ISRM) Certificate to upskill practitioners in information systems risk management.
As organisations undergo digital transformation, we launched the Digital Learning Guide to help members select the right courses to meet their upskilling needs. The guide highlights 12 potential roles amid five focus areas of digital transformation. Our publication, The State of Play of Intelligent Automation in the Finance Function, also helps those in management roles understand the challenges and benefits of implementing Intelligent Automation solutions in the finance function, including upskilling and training considerations for finance employees.
To enhance the Chartered Accountant brand and elevate our members' employability, we rolled out "Difference Makers", part of a global campaign which positions Chartered Accountants as the people employers and governments trust to get businesses and economies moving again. The campaign featured a 30-second video and a series of Q&A interviews showcasing ISCA members who embody the characteristics of a "difference maker".
SMPs play an important role in supporting businesses. The overwhelming majority of businesses in Singapore are Small and Medium Enterprises (SMEs) – many of which turn to SMPs for their professional service needs. Hence, supporting SMPs has always been an important part of what we do at ISCA. Our initiatives to drive the quality, digitalisation and growth of SMPs are guided by the ISCA Quality Assurance Framework. The framework has four pillars: Quality Assurance, Digital Capability, Knowledge Circle and Opportunities Creation.
Quality Assurance
Under the Quality Assurance pillar, the Institute runs programmes that raise the quality of audit practices.
Through our Quality Assurance Review (QAR) Programme, participating firms receive support in reviewing signed-off engagement files, firm-level quality control systems and/or policies, procedures and controls on Anti-Money Laundering/Combating the Financing of Terrorism. The programme also covers tailored training sessions on the key findings and/or recurring findings from the review.
We also provide guidance materials for SMPs that are updated regularly. These include the ISCA Audit Manual for Standalone Entities, the ISCA Audit Manual for Group Entities and ISCA's Illustrative Financial Statements.
In 2021, ISCA expanded its database of On-the-Job Training (OJT) Blueprints, producing a new set of blueprints covering 10 new audit topics. These blueprints were developed to boost the in-house training of auditing firms and guide audit personnel. ISCA has also created platforms for dialogue and discussions on topics related to audit quality. Through the virtual ACRA-ISCA Dialogue Session held in October, practitioners provided feedback on ACRA's Practice Monitoring Programme (PMP), an important regulatory instrument that promotes audit quality and provides quality assurance.
In November, ISCA organised two focus group discussions with accounting firms to gather feedback regarding ACRA's Proposed Amendments to the Accountants Act. The key insights from the discussions were included in ISCA's comment letter to the Ministry of Finance (MOF) and the Accounting and Corporate Regulatory Authority (ACRA).
Digital Capability
Under the Digital Capability pillar, we support SMPs in digitalisation, upskilling, diversification and internationalisation via the virtual SMP Centre.
The SMP Centre provides digital advisory support and conducts Robotic Process Automation (RPA) workshops to support firms in automating routine and repetitive auditing and internal processes. Resources such as the self-assessment toolkit also help SMPs to determine their digital readiness and digital and training roadmap, which identifies the digital solutions and training required for their stage of digital development. We also work closely with government agencies to help SMPs defray costs when adopting new digital solutions.
Our first ASEAN Tech Fair introduced members to new digital offerings, including accounting and auditing tools. The fair featured 13 plenary sessions and tech talks, as well as 15 virtual booths, which had live demonstrations of innovative digital solutions for the accounting sector. We have also organised "tech talks" to support SMPs in their digitalisation journey. In 2021, we organised five tech talks, which provided insights on how to tap into government grants for digitalisation and exposed firms to digital solutions that enhance efficiency and precision for work processes.
ISCA co-organised the Robotic Process Automation (RPA) Hackathon in July. The hackathon challenged its participants to develop an RPA script for categories including the audit process, finance, planning and treasury process. Through such events, ISCA aims to boost the development of innovative technology solutions that accelerate the digitalisation for SMPs, enhancing the sector as a whole.
Knowledge Circle
Under the Knowledge Circle pillar, ISCA helps SMPs to build new skills and strengthen domain knowledge, while promoting lifelong learning among practitioners. We also identify high-growth areas and skill gaps for SMPs and develop qualifications and certification programmes to equip them with relevant skills. This enables SMPs to tap into new opportunities. An example is the ISCA Information Systems Risk Management (ISRM) Certificate introduced in 2021 to enhance the capabilities of the profession in information systems risk management.
In addition to a suite of CPD courses curated specially for SMPs, we provide customised technical training sessions and materials tailored to the needs of different firms. The scope of the training includes ISCA Audit Manuals, Ethics Pronouncement 200 and other audit-related topics. To support firms in the implementation of the new quality management standards, ISCA has also developed a quality management toolkit comprising implementation tips, practical examples, suggested policies and procedures, and forms.
Opportunities Creation
At ISCA, we create opportunities for SMPs to grow their businesses by expanding into overseas markets or new service offerings. Over the years, we have organised overseas mission trips for practitioners from Singapore to network with SMPs in other countries, including China, Australia, the United Kingdom and Myanmar.
During the year, in view of pandemic-related travel restrictions, we collaborated with the Vietnam Association of Certified Public Accountants (VACPA) for a virtual business mission trip via zoom. The virtual business trip featured discussions on the business and regulatory landscapes in Singapore and Vietnam, with breakout rooms for ISCA members and representatives from Vietnamese SMPs to explore potential collaborations.
Beyond these four pillars, ISCA has provided further support via various schemes for SMPs under the ISCA Support Fund. This is because we recognise that SMPs may need greater support during these economically tumultuous and uncertain times. To help SMPs stay updated about the latest developments amid the pandemic, we have created the ISCA Navigator, which summarises the pandemic assistance packages from the government and ISCA, and worked with the SAC on advisories for accounting practices on safe management measures. These documents are regularly updated to reflect the latest changes.
It has been heartening for me to see ISCA making a positive difference to the profession, including the SMP sector, during my tenure as ISCA President. This is especially so in the last two years when the pandemic created unprecedented challenges for most businesses.
During this period, it was crucial that we developed the right strategy to support the profession in navigating the complexities, uncertainties and change brought about by COVID-19. I am pleased that we were able to support the segments of the profession that were in need during that crucial period, now that the worst of the pandemic is behind us.
After serving two terms, I will be stepping down as ISCA President. It has been a fruitful, if challenging, journey. I am encouraged that we as a profession have met the diverse challenges that arose with agility and resilience, and I am looking forward to the increasingly vital role the accountancy profession will play in driving sustainability and being part of the solution regarding the climate crisis.
My heartfelt appreciation goes to my office bearers, fellow Council members as well as the management team and staff at ISCA for stepping up during this challenging time to support members and the profession with dedication, while tackling the numerous obstacles arising from the pandemic.
Most of all, I would like to thank our members for their unwavering support and confidence in ISCA. Our members inspire us to do our very best each and every day. Indeed, it has been my deepest honour and pleasure to serve the profession over the past four years.
From the bottom of my heart, thank you.
Yours sincerely,
KON YIN TONG
President