The ISCA Members Recognition Ceremony was held in October 2021 to celebrate the contributions and successes of our members.
In view of the COVID-19 situation, the Members Recognition Ceremony 2021 was held virtually for the first time, enabling more than 200 members to tune in from their homes and offices. These members included new Chartered Accountants of Singapore and members who were conferred the Fellow Chartered Accountant of Singapore, or FCA (Singapore) designation. Sharing the limelight were the newly conferred Financial Forensic Professionals and the Infrastructure & Project Finance Professionals.
In addition, the event welcomed the first cohort of members receiving the ISCA Professional Business Accountant (PBA) designation. There was also a special segment in which long-standing members of over 50 years were presented the "50 years Milestone Award", and members of over 30 years and at least 70 years of age were awarded "Life Membership" status.
At every Members Recognition Ceremony, ISCA invites a member who is an experienced industry leader to share his/her insights. ISCA Fellow member Ms Deborah Ong, an independent director of SATS and a retired partner with the Assurance Practice of PwC Singapore, encouraged young accountants to grab every opportunity to be exposed to various aspects of their work.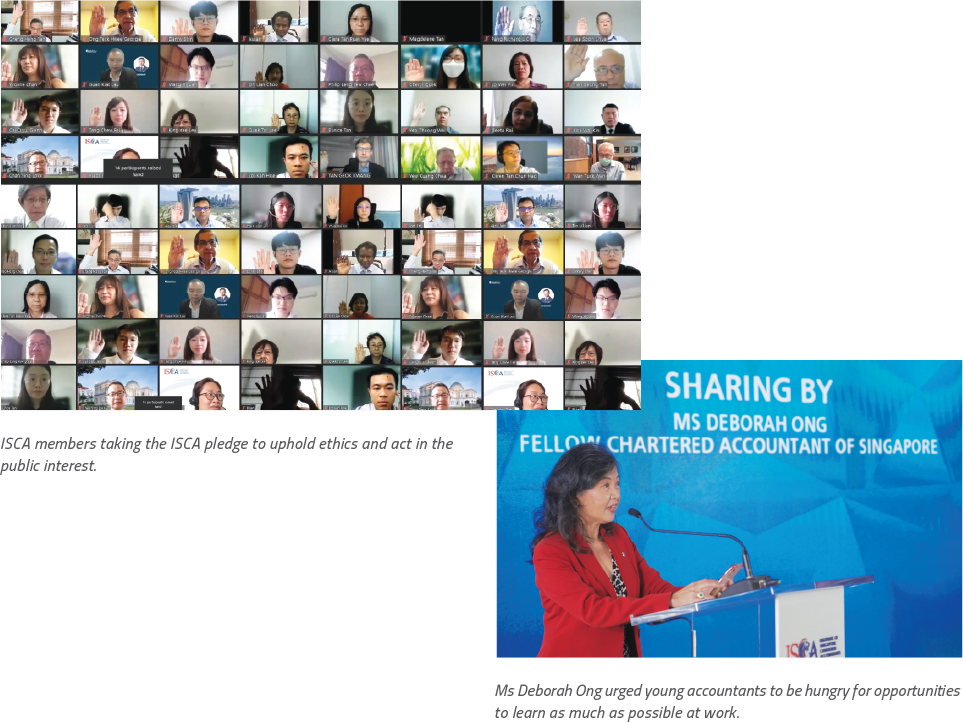 ISCA Digital Badges enable members to showcase their professional accomplishments visibly and credibly on social media and professional networking platforms. Professional Accomplishment badges are awarded for the completion of ISCA CPE Certification courses, Professional Qualification programmes and Specialisation Pathways.
In 2021, a video with the acronym 'SHINE' was introduced to highlight the features and advantages of the Digital Badges and CAW Network Member Logo. Using Digital Badges, members can OutSHINE the rest with their professional accomplishments and milestones. 'SHINE' is an acronym for:
S
howcase your credentials and qualifications on your online profile and resume
H
ighlight the competencies and accomplishments you have achieved in your professional fields
I
nspire confidence in employers of your expertise
N
arrate your achievements online in a secure way
E
nhance your professional brand and digital footprint
The ISCA Member Services Centre (MSC) provides a range of support services to facilitate essential transactions with our members. During 2021, the ISCA Member Services Centre attended to about

With ISCA's focus on member-centricity, member feedback is also reviewed periodically through various platforms, such as course evaluations and the biennial membership perception study. Based on the latest membership survey: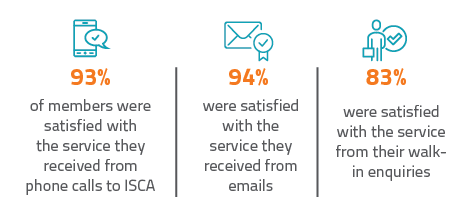 ISCA launched a new corporate website in January 2021 to improve engagement with our members as well as our outreach efforts. During 2021, the website had more than

Even though large-scale bonding activities such as the ISCA Run, the ISCA Games and the Inter-Professional Games were cancelled due to the pandemic, ISCA continued to hold regular virtual events for our members.
ISCA's monthly virtual breakfast talks featured industry speakers sharing their insights. The sessions continued to be very popular, with more than 350 attendees per session.
Discussion topics ranged from Strengthening Governance, Cybersecurity, Fraud, Finance Function through Change & New Technologies, Green Financing, Risks & Opportunities in Real Estate, Climate Change and Data Breaches in a Pandemic.
The quarterly Mingles sessions, which were co-organised with CA ANZ and the Institute of Chartered Accountants in England and Wales (ICAEW), were held virtually during the pandemic. These sessions created networking and knowledge sharing opportunities for members of the three professional bodies.
To engage our senior members, ISCA launched a series of activities exclusively for members aged 55 years and above. For a start, ISCA curated a series of webinars.
Held in September 2021, "Singapore stock and property market outlook" had more than 200 attendees and received a satisfaction rating of 8.2/10.
More than 300 senior members attended "Legacy Planning on Wills and Lasting Power of Attorney" in September 2021. The webinar earned a satisfaction rating of 9.2/10.
Close to 300 senior members attended "Global Economic & Investment Outlook" in November 2021 and gave it a satisfaction rating of 8.7/10.
As part of the programme, ISCA launched a learning package for our senior members, enabling them to: Grow new knowledge, Enrich skills and Make learning a lifelong journey (G.E.M.). The G.E.M. curated learning package includes courses specially selected to meet the learning needs of senior members.
ISCA also created a platform for senior members to access volunteering opportunities. Via the platform, senior members can provide pro bono audit services and assistance on accounting and compliance matters for non-profit organisations, and share financial skills with vulnerable families.
During the year, ISCA organised networking events for our senior members, connecting them with members from other accountancy bodies, and enabling them to explore new interests.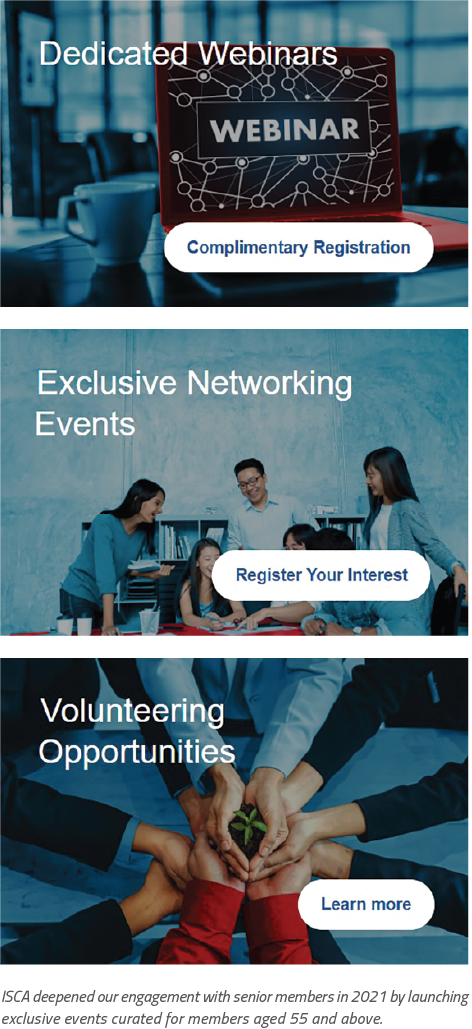 Supported by ISCA Young Professionals Advisory Committee (YPAC), ISCA hosted two career pathway talks in 2021 for young members to find out the diverse career paths open to accountancy professionals.
In May 2021, the Institute organised a talk titled "Conversation with Don Wee: Igniting a passion for serving". ISCA YPAC advisor Mr Don Wee shared his life experiences and how being a Chartered Accountant has given him an edge in his career as a banker and as a The "Accountants in Tech" Career Pathway Talk featured ISCA members working in roles that are related to technology. government official. Mr Wee also shared his passion for serving others, whether as a Member of Parliament or in his multiple volunteer roles. A total of 273 participants attended, with a satisfaction rating of 8.1/10.
The "ISCA Career Pathway Talk 2021 – Accountants in Tech" webinar was livestreamed to an audience more than 400-strong in November 2021. The webinar showcased speakers who represented a spectrum of roles that Chartered Accountants can develop and grow into. The session received an average satisfaction rating of 8.6/10 from attendees.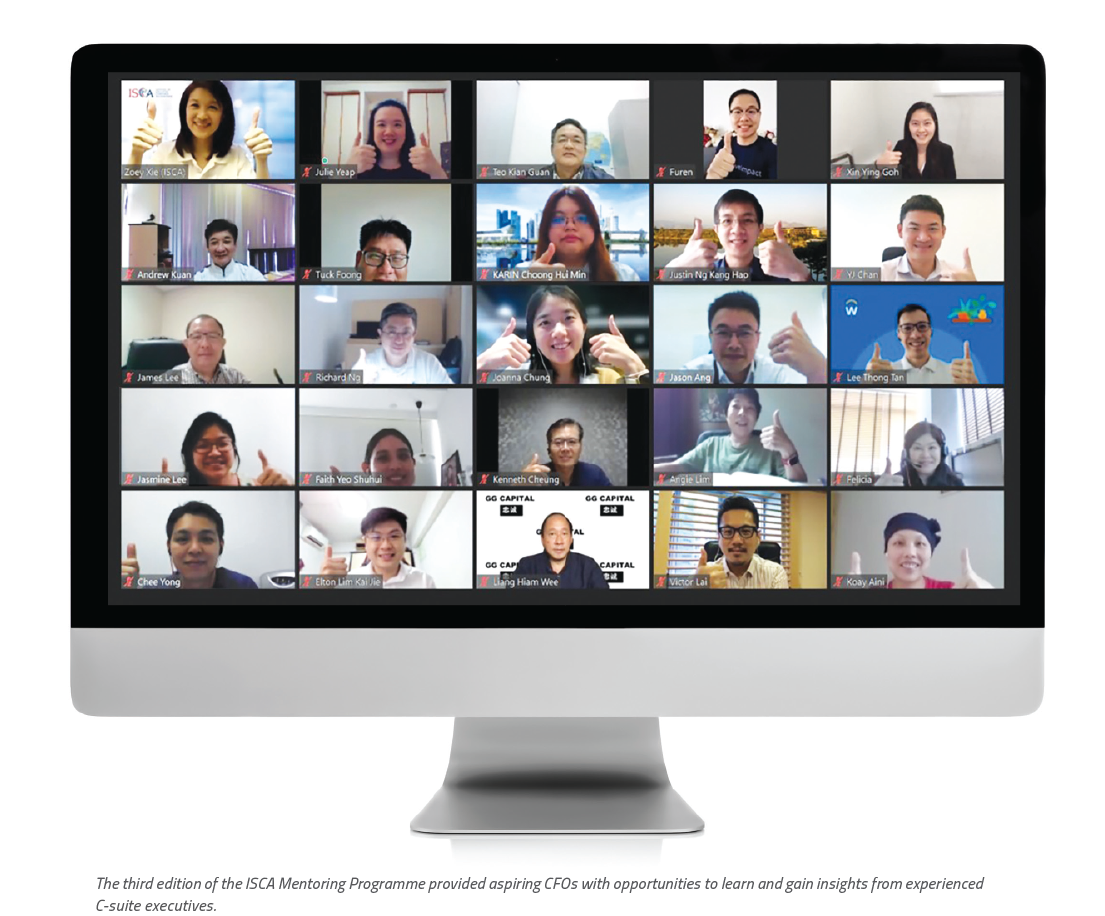 The ISCA Mentoring Programme provides aspiring CFOs with access to experienced C-suite executives to learn, network and grow.
The programme's third run was launched in March 2021, and included a series of workshops conducted by an experienced facilitator. The nine-month programme was held virtually, and ISCA successfully matched 24 pairs of mentors and mentees.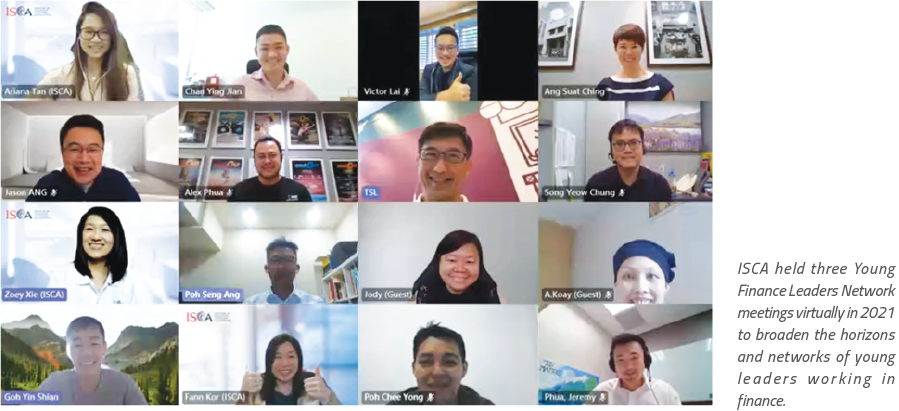 ISCA recognises the importance of supporting young finance leaders in strengthening and expanding their professional network, while learning and sharing with peers across different industries to gain wider perspectives. In 2021, three virtual engagement lunches were held with these finance leaders.
In 2021, ISCA organised three roundtable sessions for finance leaders.
The first event was held in March and participants shared the challenges their finance team faced post-COVID and some initiatives their firms implemented to overcome them.
In April's session, participants explored how organisations are measuring their digital investments and the type of digital technologies their organisations are willing to invest, as well as sharing best practices in their digitalisation journey.
July's session involved participants who work in industries where data risks rank among the top strategic concerns. They shared their concerns on the similar risks faced and their diverging views on the measures adopted to address and manage them.