DEVELOPING THE PROFESSION'S TALENT PIPELINE
As part of our student outreach efforts, ISCA rolled out a referral programme, which provides incentives for referrals by existing Youth Associates. Incentives are also provided for new student membership sign-ups.
To further raise awareness of the referral programme, ISCA invited ISCA Youth Ambassadors, who are also accountancy undergraduates themselves, to share about the benefits of being an ISCA Youth Associate with their peers from accounting programmes.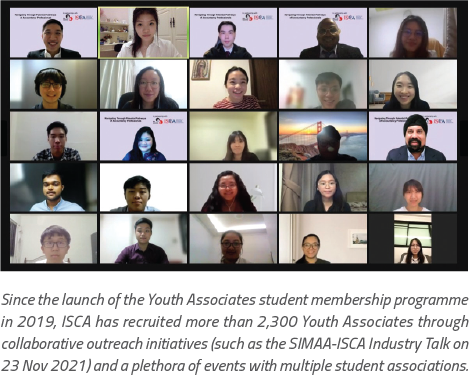 The annual ACCtraordinary Webinar was held virtually in November 2021, engaging over 500 students, educators and parents.
Jointly organised by the five polytechnics and the Institute of Technical Education (ITE), and supported by SAC and ISCA, the ACCtraordinary Webinar 2021's theme was "Difference Makers". The webinar was led by several ISCA members, including Mr Don Wee, Ms Belinda Tan, Mr Sarjit Singh, Ms Joanna Chung, Ms Angelique Teo and Mr Teo Eng Siong.
They shared about their professional journeys and provided insights into the emerging areas and required skillsets in the accountancy profession.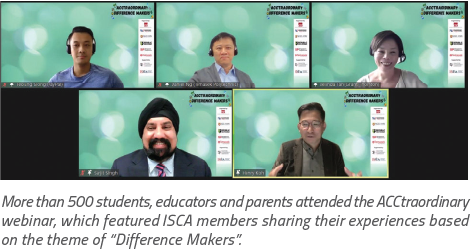 During the year's university orientation camps and talks, ISCA was invited to share about membership benefits and career pathways with the freshmen.
For a more engaging sharing session, ISCA introduced the social media giveaway, which requires student members to follow us on our social media channel. The engagement allowed ISCA to get more student members on board as ISCA Youth Associates.
The Institute engages with our student members and facilitates their growth through various complimentary workshops. Through these workshops, ISCA aims to better prepare the students for the fast-changing economy.
In 2021, several virtual workshops were held, including "Mastering Excel Objects with VBA for Effective Spreadsheet Automation", "Python for Accountancy Students" and "Data Management & Analysis in Excel Using SQL".