UPSKILLING AND RESKILLING THE PROFESSION
The ISCA Budget Update Seminar is one of ISCA's most highly-anticipated seminars. For the past three years, the ISCA Budget Update Seminar has attracted more than 800 attendees annually. The event was attended by professionals from diverse backgrounds, and featured experts from various industry segments to discuss the impact of the tax changes in the national Budget on companies and individuals.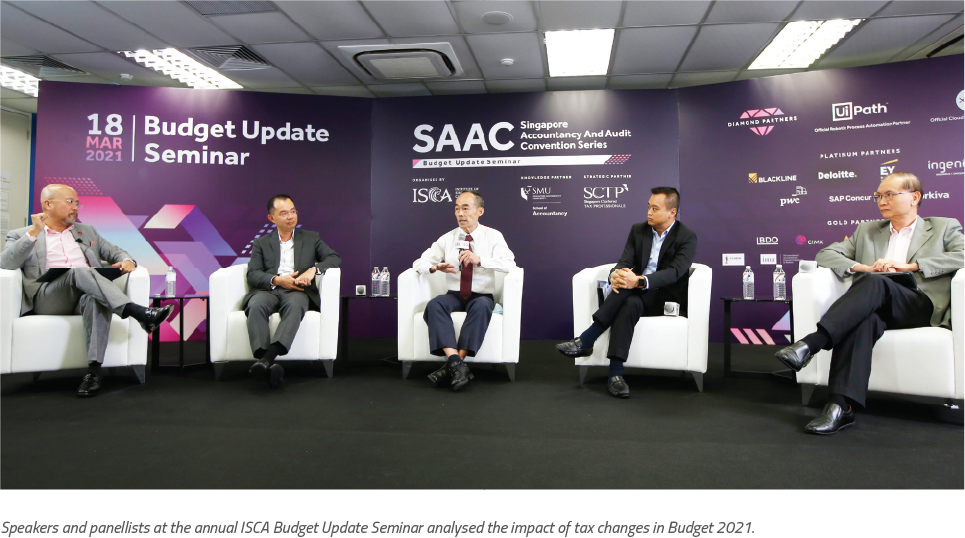 To partner members in their digital transformation journey, ISCA launched the Digital Learning Guide, which identifies 12 potential roles amid five focus areas of digital transformation, in 2021.
The guide facilitates the matching of roles and relevant courses, making it easy for members to select the right courses to meet their upskilling requirements. The digital-related courses feature over 70 topics that range from introduction-level insights to on-trend ones like data management, analytics and visualisation, as well as emerging technologies and their applications.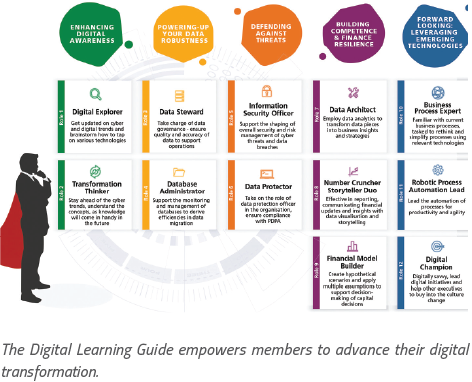 More than 800 practitioners and audit professionals attended the virtual ISCA Practitioners Conference on 28 October 2021.
With the theme "At the Lead of Change", the conference focused on the role of auditors as leaders in the face of change, and how they must respond to this change quickly to add value for their stakeholders.
In her keynote address, Mrs Tan Ching Yee, Permanent Secretary, Ministry of Finance, highlighted that in the face of COVID-19 and climate change, auditors can take the lead in boosting a country's "trust premium" by Attended by more than 800 audit professionals, the Practitioners Conference highlighted the role of auditors as leaders and enablers of change. Guest-of-Honour Mrs Tan Ching Yee, Permanent Secretary, Ministry of Finance, delivered the opening address of the Conference. ensuring high audit quality and providing investors with reliable information through credibility of sustainability disclosures. Mrs Tan stressed that auditors must be adaptable and pre-empt changes in the business environment as organisations look to them for counsel in their change agenda.
At the conference, ACRA Public Accountants Oversight Committee (PAOC) Ethics Sub-Committee Chair and IESBA Deputy Chair Ms Caroline Lee addressed the role of auditors as ethical leaders under the Ethics Code, especially in the face of change in a dynamic world. She also discussed strengthening the guard rails around auditor independence, which increase in importance when business and operating models change.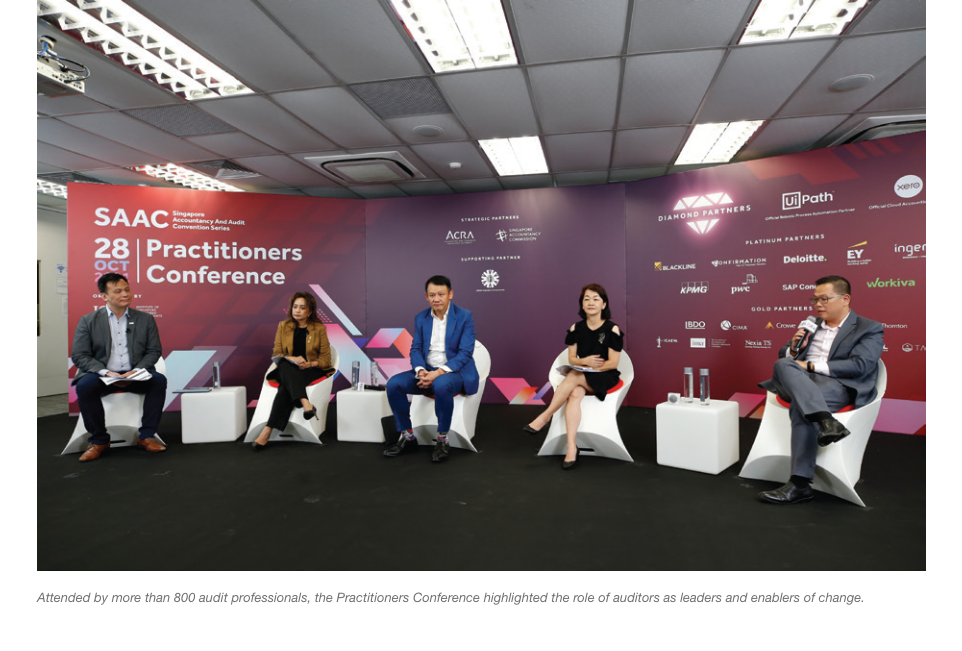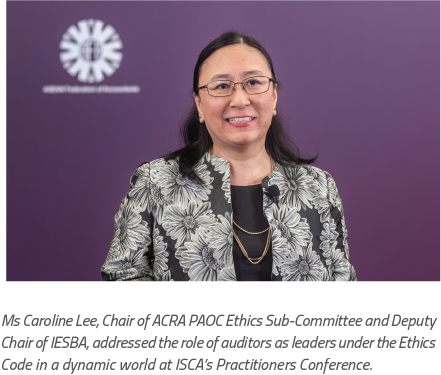 In February 2021, ISCA entered into a Memorandum of Understanding (MOU) with the Corrupt Practices Investigation Bureau (CPIB) to deepen the talent pipeline for qualified financial forensic professionals.
The MOU provides a pathway for eligible CPIB officers to become ISCA members and be conferred the ISCA Financial Forensic Professional (FFP) credential. As part of the partnership, ISCA will work with CPIB to provide professional development programmes and outreach efforts regarding anti-corruption, corporate governance and professional ethics.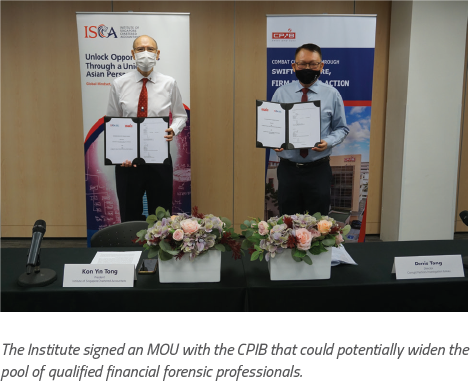 In today's dynamic and technologically-advanced business environment, the resultant risks has increased emphasis on the vital role audit committee members play regarding governance and oversight. It is now imperative for audit committee members to be well-versed in financial reporting.
To address this issue, ISCA launched the ISCA Audit Committee Programme in 2021. The programme equips participants with essential financial reporting skills, reinforces their knowledge about evolving financial reporting requirements and issues, and strengthens best practices in corporate governance and risk management.
The programme is delivered by industry subject matter experts, including industry leaders from ISCA's Financial Statements Review Committee (FSRC).
ISCA, with the support of SAC, has worked with industry experts to develop the ISCA Information Systems Risk Management (ISRM) Certificate. This certificate programme aims to upskill industry professionals and increase the information systems risk management capabilities of service providers.
With information systems risk management being an emerging risk area of the digitalised business environment, this programme helps accountancy and audit professionals be cognisant of information systems risks and governance.
Ninety per cent of course participants who took the course have found it relevant to their work.
ISCA has partnered the Institute of Internal Auditors (IIA Global) and the Institute of Internal Auditors Singapore to offer our members an opportunity to earn the Certified Internal Auditor (CIA) designation via an accelerated route. With the CIA designation, ISCA members can demonstrate their competency and professionalism in the internal auditing field and open more doors for career opportunities.
Under this collaboration, ISCA members can earn the CIA designation by sitting for a one-part CIA Challenge exam instead of the standard three-paper exam. In 2021, 58 ISCA members applied to sit for the exam.