ISCA-SUSS Business Analytics Certification Programme
Why ISCA-SUSS Business Analytics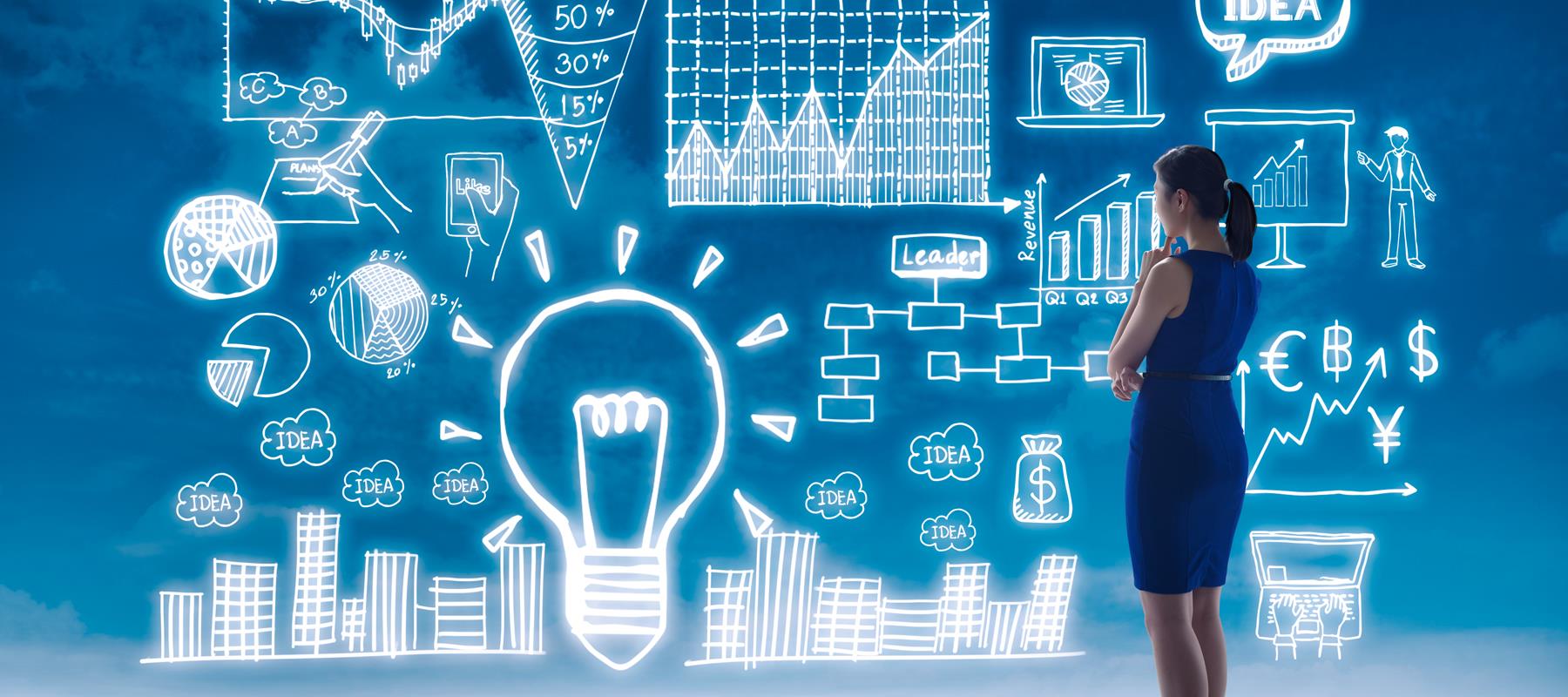 Modern technology has brought about vast volumes of data that can be harnessed for analytics. Business analytics presents a range of opportunities for accountants by adding further value to the work they currently do. Through the ISCA-SUSS Certification Programme:
Practical Business Analytics Techniques


You will acquire practical skills that can be applied directly at work, in areas such as customer relationship management, estimation of demand, production and cost.

Customised to Your Needs


As professional accountants, the expanded competencies in the area of business analytics will supplement the core technical competencies of an accountant in financial and management reporting. Based on insights gained through data mining, predictive modelling and business forecasting, individuals can provide relevant information to facilitate data-driven decision making analysis.

Integration with Technology


From day-to-day Excel to business intelligence tools (such as Tableau, Sage etc), application software is integrated into the courses. Individuals gain hands-on experience at performing business analytics using technology which has evolved to be very user-friendly.
The ISCA-SUSS Business Analytics certification programme allows you to have the flexibility to complete it at your own pace, by courses or by certificates. After completing the Business Analytics courses, you will achieve the following certificates:
ISCA-SUSS Certificate in Business Analytics

ISCA-SUSS Specialist Certificate in Business Analytics
Note: Students will need to pre-enrol with ISCA in order to be eligible for the certificates.
Please note that the time stated in the above diagram refers to the estimated minimum time taken to complete the courses in the programme. Individuals have the flexibility to complete the courses at their own pace, by course or certificate. They are strongly encouraged to enrol for a maximum of 2 courses per semester (6 months) depending on their work and personal commitments.
Professional Recognition with ISCA Digital Badges
ISCA Digital Badges are secure, web-enabled credentials containing verified information about your professional achievements. Candidates who successfully achieve each certificate under the ISCA-SUSS Business Analytics Programme will be issued with the certificate's digital badge. Find out more about ISCA Digital Badges here.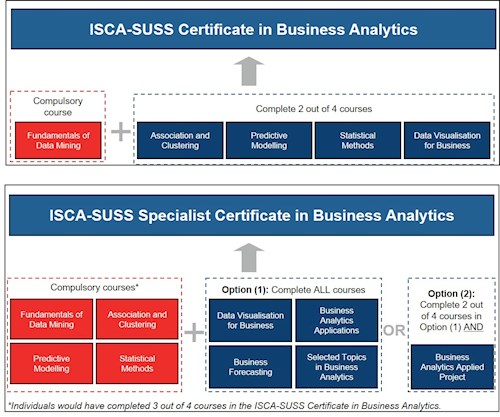 Please refer to the following links to SUSS website for more information on the courses outlines and assessment components for the courses offered under the programme.
Note: Please note that students are expected to have basic statistical knowledge.
Assessment Component
The courses in the certification programme are mostly level three courses of the SUSS undergraduate degree programme with each course (except ANL488 Business Analytics Applied Project) lasting for 6 weeks (1 term). You are strongly encouraged to enrol for a maximum of 2 courses per semester (6 months) depending on your work and personal commitments.
Typically, within the 6 weeks of the term and 1 week of term break, you are required to complete all 3 quizzes and 2 assignments for each course. Assessment components vary from course to course and you will be graded on at least 2 of the following assessment components:
Pre-course Quizzes

Pre-class Quizzes

Tutor-marked Assignment

Group-based Assignment

Presentations

Individual Case Study

End of Course Assessment

Written exam / Timed Online Assignment
All ISCA Associate and CA (Singapore) members are eligible for the certification programme.
Individuals will be eligible for the ISCA-SUSS Business Analytics Certification Programme as long as the following requirements are met:
At least 18 years of age; and

GCE 'A' level with two passes (prior to 2006); or two H2 passes (from 2006); or

Local polytechnic diploma; or

International Baccalaureate (IB) Diploma; SAT1 score; or

Obtain at least 5 GCE 'O' Levels and pass an interview conducted by SUSS.
No Funding

With SSG Funding

International Participants

S'poreans and PRs
(aged 18 and above)

SkillsFuture Mid-Career Enhanced Subsidy
(S'pore Citizens aged 40 and above)


Enhanced Training Support for SMEs


Fee for each course (excluding GST)

S$1,653.60

S$1,378.00

S$1,378.00

S$1,378.00

Fee for each course (including GST), after additional funding from the various funding schemes

S$1,769.35

S$442.34

S$166.74

S$166.74

Fee for each course, including GST (Applicable to Business Analytics Applied Project only)

S$3,538.70

S$884.68

S$333.48

S$333.48
Course fees updated as of 2021.
Please note:
One-time application fee of $64.20 (inclusive of GST) applies.

Course fees listed are applicable for July 2021 semester. The course fees are reviewed annually and may be revised. Singapore University of Social Sciences​ reserves the right to amend and/or revise the above schedule and course fees without prior notice.

Individuals are required to achieve at least 75% attendance, take all prescribed examinations/assessments or submit any course/project work (if any) under the course requirements and have not previously received a government funding for the same course.

SSG Funding is approved for July 2021 semester. For subsequent semesters, funding is subject to funding agencies' renewal, and approval.

The course fee is not inclusive of other additional items such as additional recommended textbooks, examination fee for resits, etc.