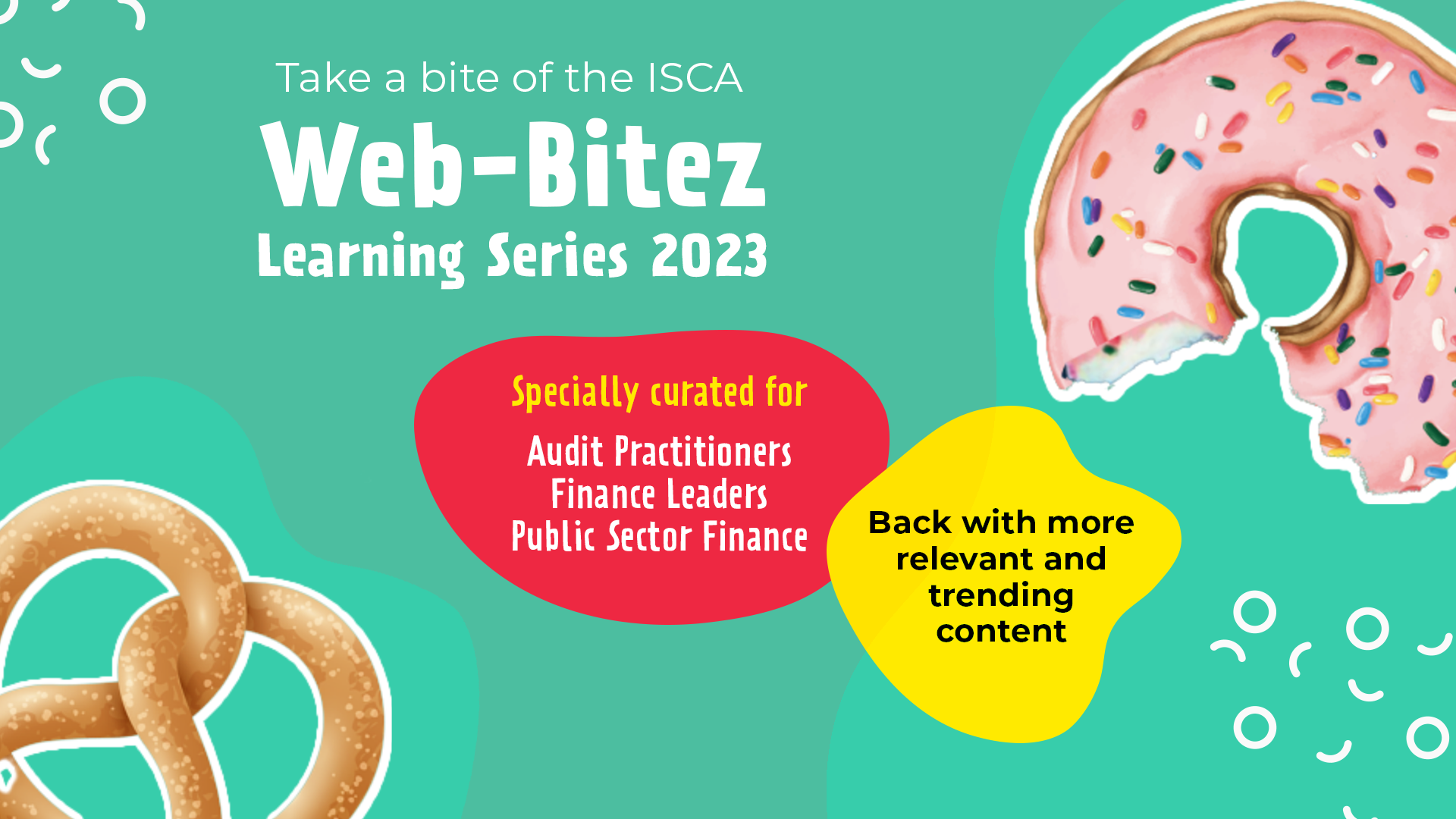 Having trouble finding time to attend trainings or unsure of which ones to choose? Prefer bite-sized learning and on a tight training budget?
ISCA Web-Bitez Learning Series is back! Keep up with the hottest issues of 2023 and complete your CPE obligations, including two verifiable Ethics hours, without any hassle at all.
The 20-hour Web-Bitez Learning Series is delivered in bite-sized chunks via live webinars to fit your busy schedule. Playback option is also available if you miss the live sessions.

*Customise your learning by choosing 10 topics of your choice from the 15 topics listed in the table.

| | | |
| --- | --- | --- |
| Date | Title* | Recommended For |
| 17-Mar | | ALL |
| 14-Apr | | ALL |
| 21-Apr | | Finance Leaders |
| 12-May | Understanding of International Valuation Standards (IVS) for Financial Reporting | ALL |
| 19-May | Negotiating to Create Value: The Win-Win Template | ALL |
| 16-Jun | Facilitating a Gender-Diverse and Gender-Equal Workplace from Both Global and Local perspectives | ALL |
| 23-Jun | Navigating the Pitfalls in M&A | Finance Leaders and Audit Practitioners |
| 21-Jul | Data-Driven Marketing | ALL |
| 18-Aug | Accounting for Digital Assets | ALL |
| 25-Aug | Code of Ethics for Professional Accountants | ALL |
| 22-Sep | A Practical Guide to Group Audit | Audit Practitioners |
| 13-Oct | Risk Management in the Digital and Cyber Era | ALL |
| 17-Nov | Supply Chain Resilience and the implications to Businesses | ALL |
| 8-Dec | Carbon Tax - How it affects businesses | ALL |
| 15-Dec | Updates to Accounting Standards | ALL |
*Ala-Carte Registration will open 1 month before session date (subject to availability)
| | | |
| --- | --- | --- |
| Fees | ISCA Member* | Non-Member* |
| Full package of 10 sessions | | |
| Ala-Carte session** | S$80 | S$100 |
*All fees quotes are exclusive of prevailing GST rate.
** Ala-Carte sessions will be open for registration one month before the session date (subject to availability)
The ISCA Web-Bitez Learning Series is offered by ISCA from March to December 2023 and sessions will be held as live webinar. A detailed set of instructions will be sent to you before the session.

The dates and contents published on the website are indicative and subject to changes without prior notice. Participants will only be notified of the changes to event dates.

The Institute reserves the right to amend the programme (including duration, date, and content) as deemed necessary without prior notice.

Playback option for the ISCA Web-Bitez Learning Series will be available 6 months from the session date or registration date (whichever later), for participants who are unable to attend the live session(s).

As the option for playback is available, any request for deferment, cancellation or refund of fees in full or partial is strictly not allowed.

All Birthday and Credit vouchers must be applied at the time of purchase. There shall be no further amendments to the invoice once registration is confirmed.

Click here to view CPE Terms and Conditions. ISCA reserves the right to amend the terms and conditions at any time without prior notice.
For more details, please contact ISCA CPE at cpe@isca.org.sg or 6749 8060.
Your enrolment would constitute that you have read and accepted the Terms and Conditions.