COVID-19 RESPONSES AND INITIATIVES
To support members affected by the pandemic, ISCA rolled out initiatives to provide them with career support. Our career microsite housed a jobs portal and relevant government career schemes for accountancy and finance professionals.
ISCA has a members-only service for job-seeking members to profile themselves to potential employers by posting their career history anonymously on the job-matching site.
Employers seeking to hire will be able to search for suitable candidates and inform ISCA to connect them to these candidates. To date, ISCA has profiled 260 members on this database and fulfilled more than 630 employer requests.
Over the year, ISCA organised career support webinars, which provided advice and resources for both jobseekers and employers.
For jobseekers, the Institute held "Resume writing & interview tips" in April 2021. Over 300 members attended the webinar, which received an average rating of 8.7/10.
In June 2021, "How to build your team with the right recruitment processes" was held to support employers. Over 300 members attended the webinar, which received an average rating of 8.6/10.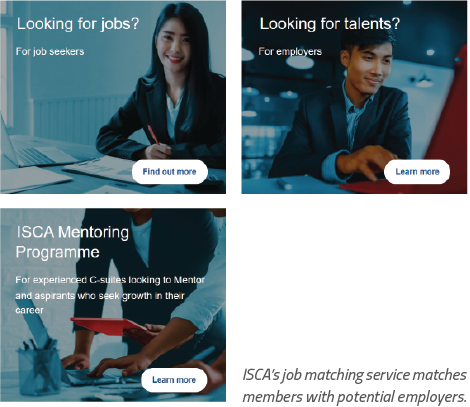 ISCA partnered Workforce Singapore (WSG) to organise the Virtual Career Fair (VCF) for accounting and finance professionals from 19 July to 9 August 2021. In addition, the VCF featured a webinar titled "Navigate your Career in the Accountancy Space".
The VCF matched employers with accounting and finance talent, especially for roles in Advisory and Tax Services, Assurance and Risk Management, Financial and Management Accounting and Technology. There were more than 3,800 visitors to the website, with more than 100 unique applicants submitting almost 350 applications during the fair.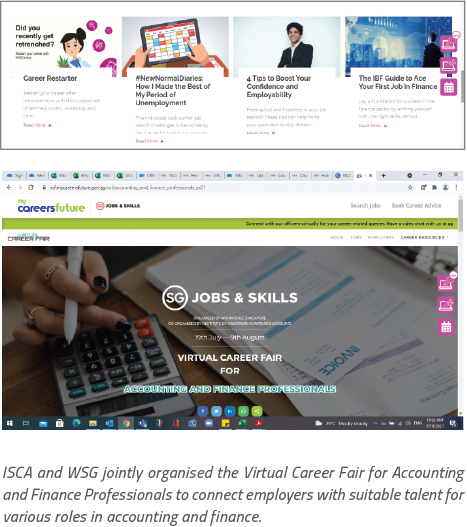 To position the accountancy profession for success in the post-COVID-19 environment, the Institute established the ISCA Support Fund – a scheme that caters to the differing needs of accountancy professionals and small and medium practices (SMPs) – in February 2021.
Worth $8 million, the Fund aims to support businesses, sustain the livelihoods of accountancy professionals and safeguard professional credentials. To strengthen and transform businesses, $3 million was allocated to accelerate the digital transformation and upskilling efforts of SMPs, as well as provide working capital for SMPs affected by the pandemic. To date, close to 140 SMPs have benefitted from the scheme, enabling them to tap new opportunities and build digital capabilities.
The other $5 million was allocated towards supporting ISCA members, of which $3 million was allocated towards upskilling and reskilling members for the post COVID-19 environment. The remaining $2 million is being used to help members who are experiencing financial difficulties due to the economic impact of COVID-19. Membership fees will be waived for these members, who will also receive complimentary training, enabling them to acquire new skills that enhance employability. In 2021, about 500 members received membership fee waivers and complimentary training courses.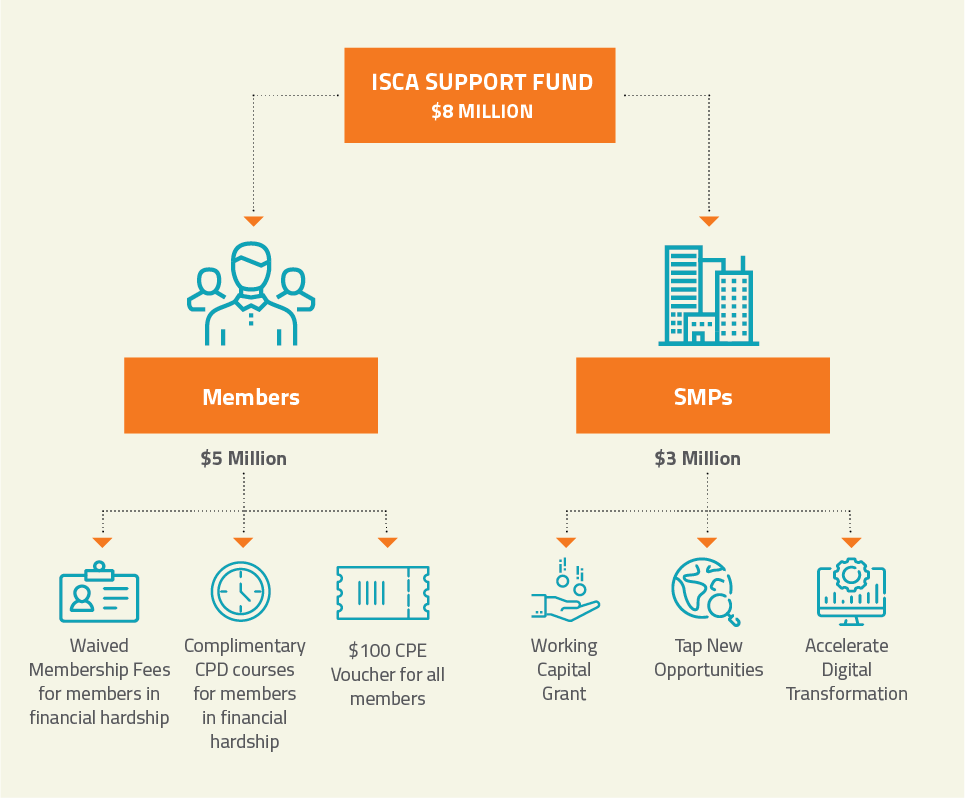 Among the diverse initiatives and resources ISCA rolled out to support our members amid the pandemic, the ISCA COVID-19 Navigator stood out for its utility and relevance to businesses and individuals by helping them navigate through the plethora of assistance schemes from the government and ISCA, and identifying the ones that are relevant to them. The 2021 edition of the ISCA COVID-19 Navigator incorporated the support schemes from Budget 2021.
Started in 2020, ISCA and the Singapore Accountancy Commission (SAC) jointly issued three sector-specific advisories that provided guidance to accounting firms on planning and implementing work arrangements, following the government's implementation of safe management measures. A fourth advisory was issued in mid-2021, enabling accounting firms to update their practices and understand the impact of these measures on their work arrangements.
At our online COVID-19 Resource Centre, members can find technical guidance and FAQs that address auditing and accounting issues arising from COVID-19. The online resource centre also houses news related to the business and economic implications of the pandemic and an eLearning Centre with a plethora of courses to address to members' upskilling needs.
Amid safe management measures to combat COVID-19 in 2021, ISCA utilised webinars as a digital platform to meet our members' professional development needs. In 2021, ISCA organised 43 complimentary webinars, with a total of more than 17,000 signups.
Topics covered in the webinars include finance digitalisation and automation, career support and advice, taxation, fraud, risk, government regulation, green financing and ethics. Besides providing in-depth analysis of various issues pertaining to the accountancy profession, the webinars also provided actionable insights for the participants.
Via the webinars, ISCA was able to continue upskilling and reskilling the profession safely amid the pandemic.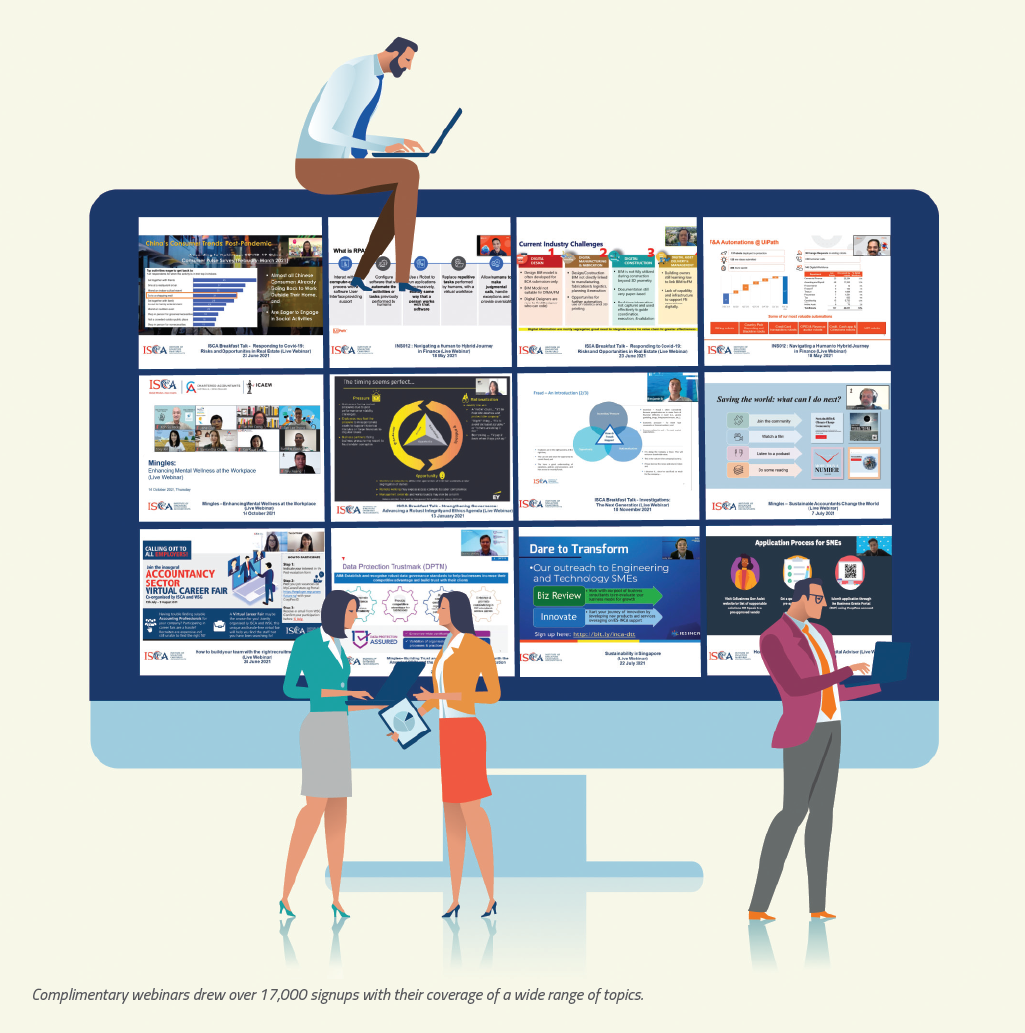 To support members' mental wellbeing during the COVID-19 pandemic, ISCA rolled out a range of activities in 2021 to generate awareness about the importance of mental wellness.
In conjunction with World Mental Health Day on 10 October 2021, the Institute designated October as ISCA's mental wellness month. ISCA kick-started its mental wellness initiatives with a microsite focused on mental wellness, as well as a cover story about mental wellness in the IS Chartered Accountant Journal.
In addition, ISCA organised two webinars in October 2021. The first webinar entitled "Enhancing Mental Wellness at the Workplace" started with a short breathing exercise for relaxation led by the moderator. The second webinar, "Coping with Stress and Anxiety in Uncertain Times" by mental health expert Dr Tan E-Ching shared information on the mental health landscape in Singapore and how mindfulness brings immense health benefits in coping with the stressors of work and personal lives. Participants also received practical tips on practising mindfulness.